IOF Young Leaders Academy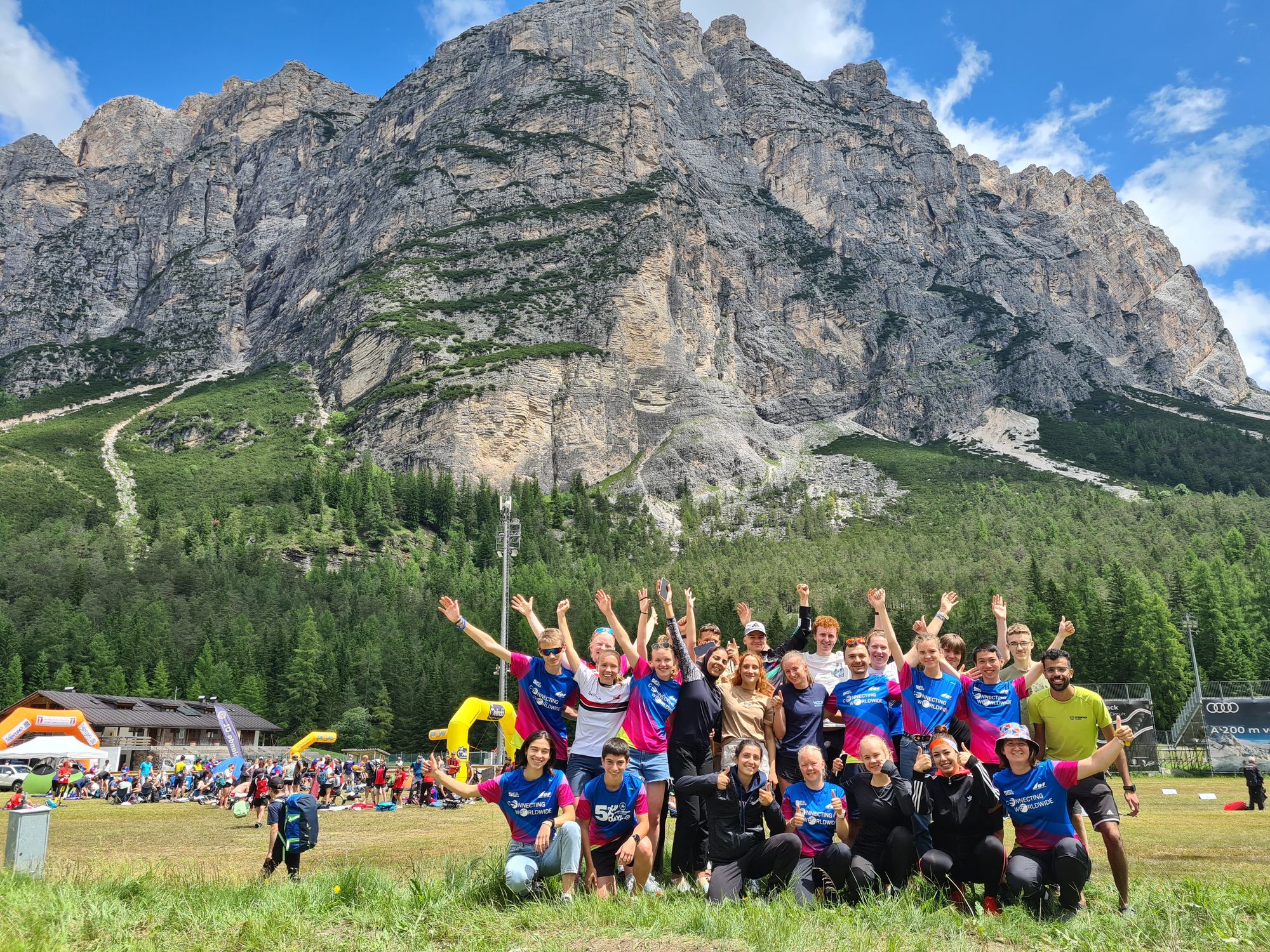 Last week I had the privilege of joining the IOF's inaugural Young Leaders Academy, alongside the Italy 5 Days in the Dolomites. The idea was to bring together keen young orienteers from all over the world for a week of learning about all the things that surround and support orienteering: mapping, coaching, planning, organising events, developing the sport in new areas etc. In the end it was more than that though - the conversations both amongst us and between us and the coaches, outside the organised sessions, were just as valuable as the content within the sessions. Between us we had 12 countries represented - 6 Ukrainians, 3 Finns, 2 Norwegians, 2 Brits, 2 Czechs, 2 Italians, 2 Egyptians, 1 Pole, 1 Estonian, 1 Turk, 1 Algerian and 1 person from Hong Kong. The coaches were Susi Rutz (Switzerland), Jörgen Mårtensson (Sweden), both from the IOF Global Development Commission, Anders Björklund (Sweden) and Olena Dotsenko (Ukraine).
We arrived on the Friday evening and got stuck in straight away with a demonstration of how SportIdent works from the guy doing the SI for the Italy 5 Days, plus a little maze orienteering. After dinner we had a session on course planning, focussing on juniors. There was a wide range of experience within the group, in course planning and everything else, so we worked in pairs, with one more experienced and one less experienced planner.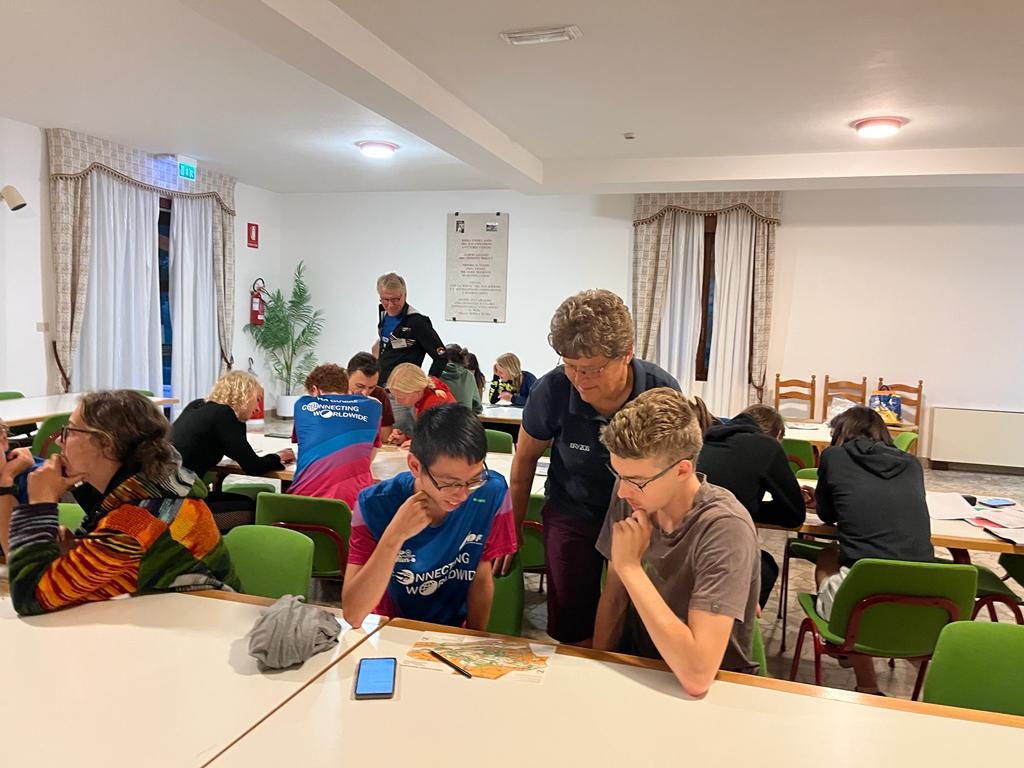 I've done some planning before, such as for the upcoming Coast & Islands event this year, but it's something you can always improve on, especially for juniors. It was interesting to hear what different European countries think about how hard the courses should be for each age group - it's a tough gig to be a 10-year-old in Czechia!
The next morning the focus was on how to develop orienteering in a new country, or a new city within an existing orienteering country. We worked in small groups to come up with a plan, then shared and discussed our ideas with the rest of the group. Key points: make it fun, friendly and inclusive, and of course spread the word! Following this we had a talk from Susi and Jörgen about how the IOF works (key point: it's not as confusing as it seems). To finish off a busy morning we spent an hour designing a hypothetical morning of orienteering activities and games for a school group. In these situations, without a 'real' orienteering map (probably on a playing field), the idea is to use various orienteering-related games to introduce the children to different aspects of the sport. And, of course, it has to be fun!
After that it was time for the first race, a middle distance. Whilst my own runs were nothing special during the week, what was special was the post-race discussions within the group. The three Africans in particular had done very little forest orienteering before, and yet here they were having a post-race debrief with a multi-world-champion. At the end of the week, Jörgen also handed over a bag of compasses and kites to Isma, from Algeria, who is only just getting orienteering off the ground there.
The rest of the week continued in a very similar fashion. We had a discussion with Emil Wingstedt and Megan Carter-Davies on their mental approach to big competitions, which not only benefits our own orienteering ambitions but also our coaching of others. Following this was a talk from Ross Burnett on orienteering in Canada, which expanded our perspective on some of the issues that orienteering faces in other parts of the world: extremely long travel distances, difficult land access and the fact that the general population has no idea what the sport is, perhaps even less than in the UK.
Next up was MapRun and GPS orienteering, and whilst an imperfect substitute for real orienteering, there are some creative things you can do with it. For example, Susi showed us how in Switzerland she set up a week-long score course (alongside a multi-day race) with controls over a very large area, much too big to cover in a day, and people could collect as many as possible during the week. If you put the controls in picturesque places then it can turn into a great promotional tool too!
On the Tuesday we had a discussion with Flavio Poltéra, a Swiss professional mapper. Given my own mapping work, I was particularly interested in this and made sure to pick his brain on everything from his views on auto-generation to how the business side of it works in Switzerland. On Wednesday we were incredibly fortunate to have the central organising team of the Italy 5 Days do a session with us on event organisation.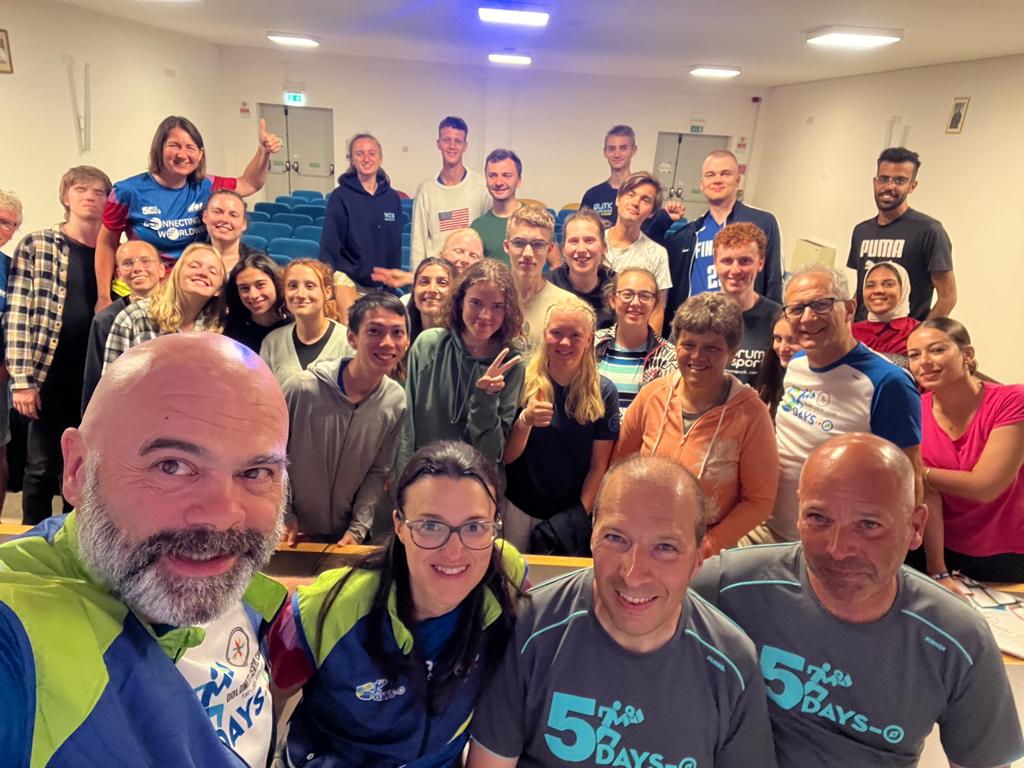 Gabriele Viale (left) is the driving force behind the event, and also behind Park World Tour, MOC Sprint Camp, WMOC 2022 and EOC 2023. It was inspiring to hear him talk about what makes the perfect event, including treating your helpers so well that you get too many volunteers wanting to help at your events! (Key point: making them feel empowered, and rewarded)
The final session was a presentation on maze orienteering from Göran Andersson, who is unbelievably passionate about what many consider to be a novelty format. He genuinely thinks it could be orienteering's best hope for Olympic inclusion, based on the spectator friendly head-to-head possibilities (like speed climbing) and its wheelchair accessibility, which is crucial for Paralympic inclusion.
But as I said at the beginning, some of the most interesting parts were the conversations with people outside of the main sessions. For example, I spent half an hour on the bus to Stage 3 talking to Jason about the state of orienteering in Hong Kong. It turns out high school orienteering is pretty big; inter-school competitions can get around 1000 participants, and yet university orienteering is non-existent. As you might expect, sprint orienteering is the dominant format, and there's a club that has a weekly sprint series sponsored by companies including Adidas Terrex. It's possible!
Beyond the orienteering, the week was fantastic for making new friends. Orienteering is not a huge sport, the subset of orienteers who are keen to organise, map, plan, coach and develop orienteering is smaller, and the subset of those who are under 30 is considerably smaller still. So it makes sense to work together.
---
I'd like to say a big thank you to the IOF for organising the academy, and to both the Orienteering Foundation and my local club EPOC for supporting my attendance. The IOF's own write-up is here: Successful start for the IOF Young Leaders Academy 2023 | International Orienteering Federation