After the successful Lakeland Warrior weekend, Martin Bagness and I noticed that South Ribble Orienteering Club had a national event scheduled for Sunday 5th March, on Whitbarrow, a top-quality area which is rarely used. Given this would be a month before the JK, we thought that we could organise a middle distance race on Saturday 4th March and turn it into a full weekend, giving people who live further away more value for their journey. The timing and potential good quality of the races meant they were also included in the UK Elite Orienteering League.
We settled on Blind Lane, the southernmost part of Grizedale forest, as our area. Parking could be on forest tracks for up to around 400 people, with walks to the start less than 1km, and most importantly, a technical, challenging and well-mapped South Lakes forest.  There were a few worries about larch clearance work but these patches were small and we were assured by the Forestry Commission that there wouldn't be any further clearance in the area before the event.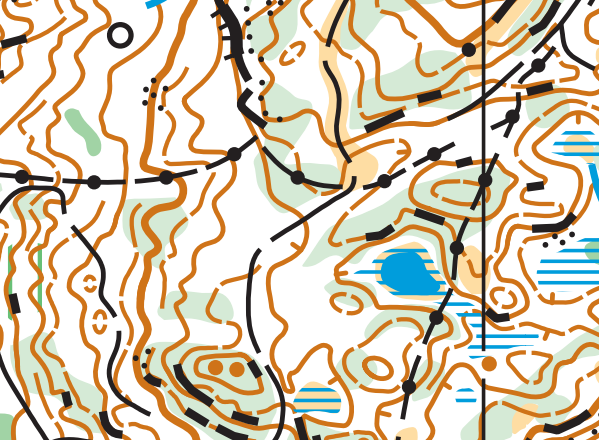 However, as we got within a couple months of the event, SROC heard from Natural England that they would not be granted permission to use Whitbarrow for their race, a great shame for all involved and all who were looking forward to running there.
So, we were left with a tricky situation. Could we pull together a replacement event in less than two months? For Martin, this was an definite yes; he's that sort of person, and I suppose I am as well. For the majority of our target audience, the most important things are good quality maps and courses, rather than the extra niceties of the event surrounding them. Some toilets and parking not too far away from the event are the main things.
Martin suggested Loughrigg Fell - close to Ambleside with public car parks and toilets, and with an amenable landowner we could be quite confident of getting permissions from. However, the one thing that we couldn't find was someone willing to be Controller for the event. This was unfortunate as having a Controller is a requirement for the event to be anything greater than Local status, and as such, be elligble for British Orienteering ranking points. Nonetheless, the UK Elite League is separate and the event could still be a part of that, despite the apparent juxtaposition.
Loughrigg is not the most technically challenging area in the Lake District, mostly because it is open, rather than forest, which means you can see a lot further. You can spot a hill 400m away and run to it. So, to add a little more interest, particularly for people who had run here many times previously (it was used in April 2022 for example) Martin had the smart idea of removing the paths from the map for the harder courses. This is something that is done at a few events in Europe, such as the OO Cup, but rarely in the UK.
On an area like Loughrigg, we thought it shouldn't create too much unfairness (caused by local people knowing where the paths are from memory) because the terrain off the paths is generally quite fast and runnable. We thought the pathless map would also encourage people to use a more proper orienteering technique, based on compass and contour interpretation. For juniors especially, this would hopefully help teach them the skills they need for orienteering successfully in more technical terrain, such as that found in Scandinavia. We hope that it becomes more common as an option at other events in the UK.
SROC, after the cancellation of their event, generously helped us out by providing some manpower on both days, so they are due a big thank you (and we have also donated them some of the proceeds from the event).
The weekend itself went fairly smoothly and without major incident. There is always, however, room for improvement. For example, on the Saturday, we could have positioned the toilets in a more optimal location which would have saved some people a few hundred metres of walking. I didn't hear any serious complaints though, and everyone seemed happy with the maps and courses, which is the main thing. If you came to the event, I hope you enjoyed it and I look forward to seeing you at another one soon enough.