Shakespeare Primary School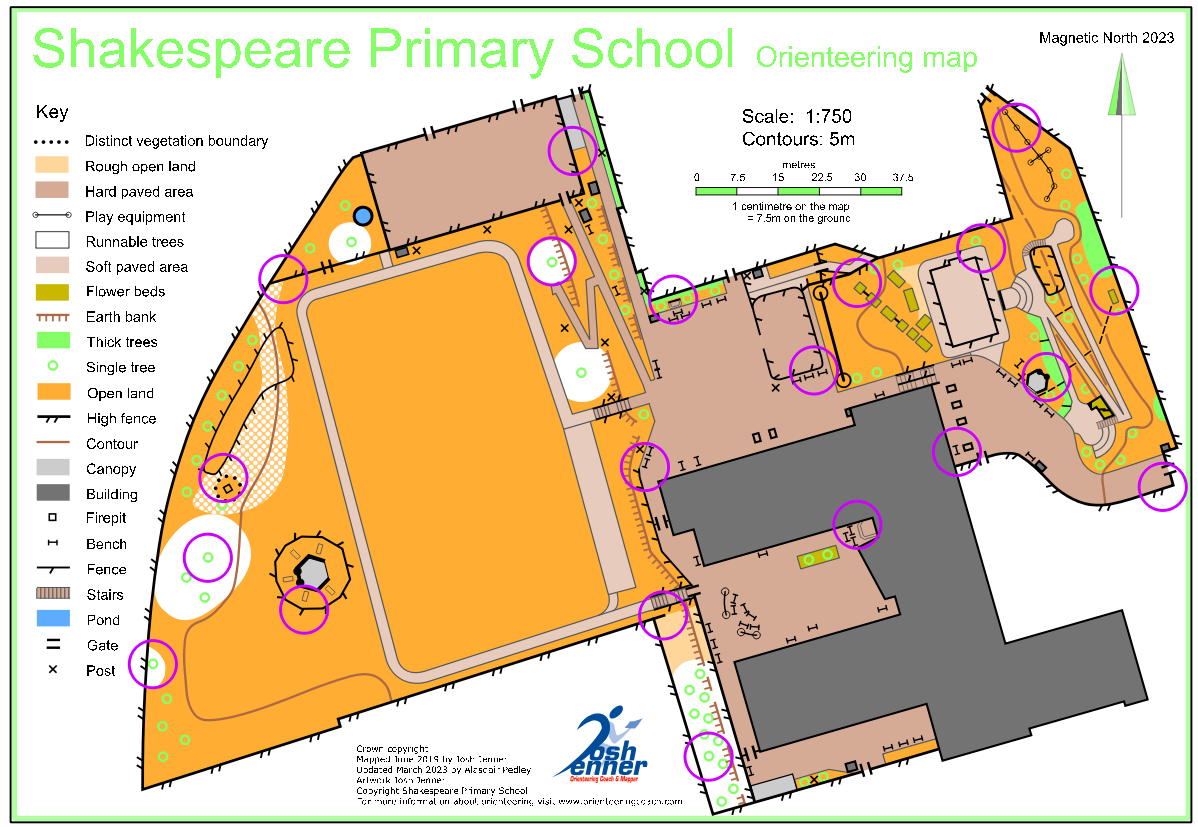 Josh Jenner runs a business called The Outdoor Classroom, which aims to get children learning in the outdoors through orienteering. The idea is to make it possible to bring a maths or science lesson, for example, outdoors. The children run an orienteering course, but at each control they can do a maths-based task, which can be based on objects, images, sound or writing. I think it's a great idea, so I reached out a while ago, and then in March Josh got back in touch to say there was work to be done at Shakespeare Primary School in Leeds. Firstly updating the map, and secondly installing 20 permanent markers.
Shakespeare is a large primary school with a very ethnically diverse pupil population and a very enthusiastic headteacher, Mr Gorton, who was more than happy to show me round the school grounds. It was great that he took a keen interest in making this orienteering project as good as possible for the children, for example making sure we varied how challenging the control sites were to find.
The mapping work was fairly straightforward, as Josh's old map was only 4 years old and my job mostly involved reflecting the new building work and changes that had occurred since then. As it's an update, some mapping 'choices' have already been made in the original map, and I generally took the view that if something was correct I'd leave it, even if I may have mapped it differently originally. An example of this would be using the earthbank symbol rather than contours to show the banking down to the playing field.
The best thing about my visits to Shakespeare were how happy and inquisitive the children were. I had lots of them asking me what I was doing and most seemed genuinely interested when I explained that I was making an orienteering map, or installing orienteering markers. On one of the two days I was there, at lunchtime, the school had arranged for someone to bring a couple of speakers down to the playground and lead an (optional) singing and dancing session for the kids. It was a nice example of a school doing well and being proactive with the children a good education and having fun at the same time.
Hopefully they enjoy trying out the new style of lessons and also realise that orienteering, without the academic puzzles, exists as a competitive sport too!